Ultimate Mountain
Hideaway

Ultimate Mountain
Hideaway

Ultimate Mountain
Hideaway

Ultimate Mountain
Hideaway

Ultimate Mountain
Hideaway

Ultimate Mountain
Hideaway

Ultimate Mountain
Hideaway

Ultimate Mountain
Hideaway

Ultimate Mountain
Hideaway

Ultimate Mountain
Hideaway

Ultimate Mountain
Hideaway

Ultimate Mountain
Hideaway

Ultimate Mountain
Hideaway
Luxury Rainforest Cottage
This standalone Rainforest Cottage would be the perfect retreat for those seeking a private getaway. Our cottage is packed with old English charms designed for comfort and luxury. Offering the English village experience right here in Australia, come enjoy the rainforest setting with the friendly, knowledgeable, and personalized attention only a local family-run business can offer.
After receiving a complimentary tea/coffee on arrival, settle into your elegant room for a private and comfortable stay with top-notch amenities and personal service. Start your day on your private porch looking out to the rainforest or explore the Hinterland or the Gold Coast from our perfect location in the heart of Mt Tamborine.
This room offers a great romantic getaway for anyone looking for a private and relaxing overseas experience without flying the long haul. Join us at our 4.5 star Curtis Falls Apartment for a getaway to remember.
This room includes;
- Comfortable Queen bed
- Ensuite bathrooms
- Quality Sofa-Bed in Lounge area
- Fine Linens
- Plush towels and bathrobes
- Refrigerator, Microwave & Air-Fryer in the kitchenette
- Uniquely decorated dining area
- Free High-Speed WiFi
- Flat Screen TV with HD stations & DVD
- Private Rainforest Veranda
If you are looking for a relaxing village shopping experience you can visit our dining and shopping on the popular 'Gallery Walk' located only 10 minutes on foot from your front door. If you are seeking an action-packed trip book into one of the Gold Coast theme parks or go Tree Top climbing, horse riding, playing gold or visit the Glow Worms all within a short drive, either way, we will help you design your itinerary. If you want to retreat and unwind, we will take very good care of you while staying out of your way. We will ensure that no matter what brings you to town you will be well cared for at Curtis Falls Studio Apartment. Experience firsthand why we are consistently honoured with high ratings on Trip Advisor, Expedia & Google Reviews.
Or See Our Luxury 'Studio Apartment' ?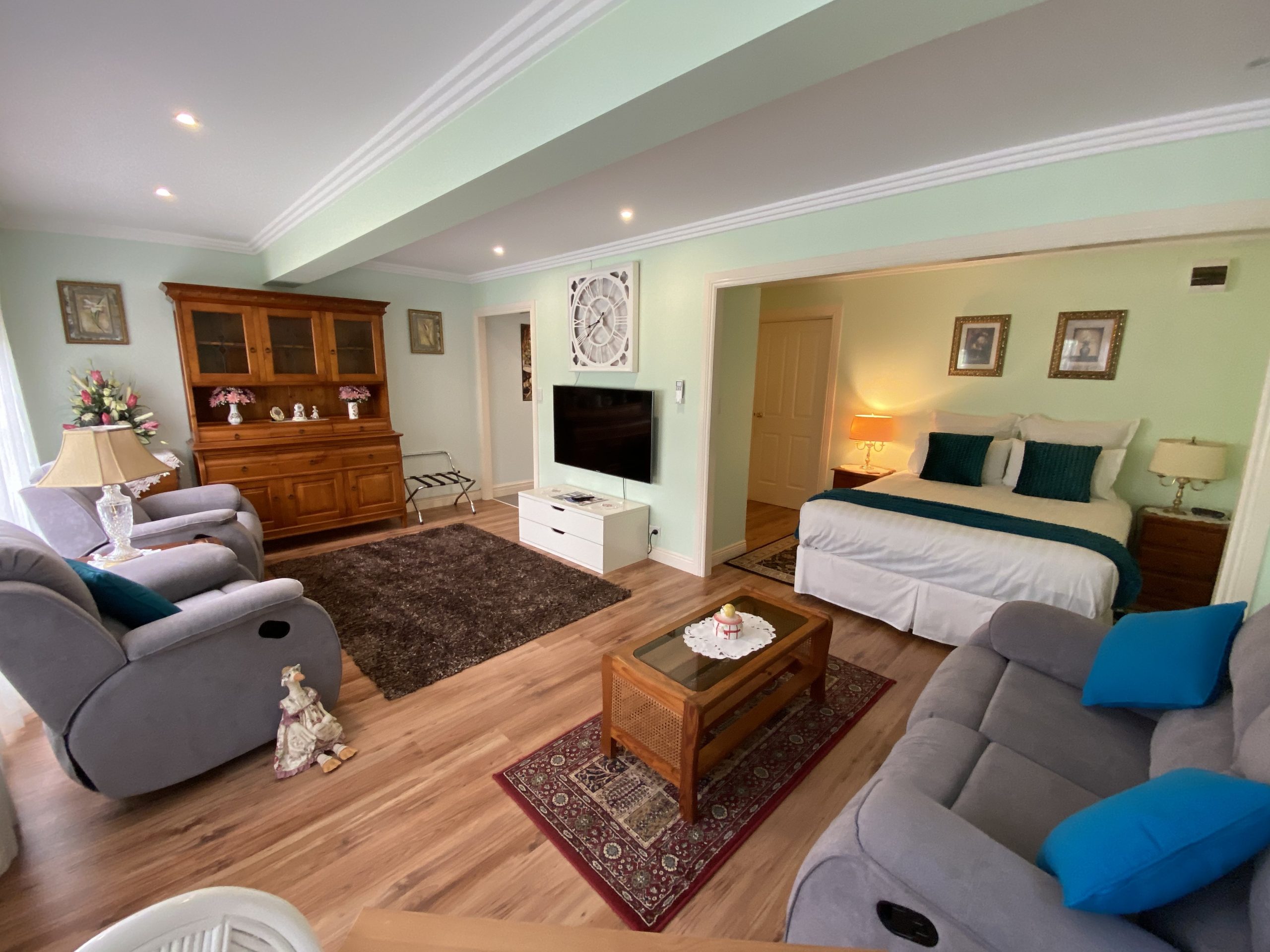 Brilliant, couldn't have been any better. Host's were so lovely and the great central Location. You could walk most anywhere - e.g. Gallery Walk, Curtis Falls. Look forward to staying at the Cottage again in the future.
Tammie Aug 2020
Great relaxing weekend! Excellent location, with just a short walk from the cottage to Curtis Falls. A lovely comfortable cottage, beautiful surrounds and very private. Richard was great sharing his knowledge of the local restaurants and cafes. We really enjoyed our stay.
Maria Oct 2020
"Our stay here was everything we hoped for and more. The room was beautifully set up and incredibly relaxing listening to the sound of the forest each night. All in all definitely a 5 star experience and would definitely come and stay again… 1"
l. williams 1
The perfect location to explore all that our natural Rainforest location has to offer
Credit Card details are required when making a reservation. Card Payments will be debited 7 days prior to Check in Date (Conforming with 'Cancellation Policy') We accept . . VISA, MasterCard, Bankcard.
A $4.00 electronic reservation fee is incorporated in each booking. An administration charge of $10 + $4 applies to any cancellation and may be charged when making your reservation.
Cancellation Policy:
Cancellation must be received by 6pm (Aust. e.s. time) 7 days prior to reservation.
A Non arrival will incur full payment of booked stay.
Notwithstanding: Due to covid 19 the 7 days are replaced by 24 hrs. For the foreseeable future.
Early termination of a reservation:
From the unused portion of your stay, no refund will be given as per Cancellation Policy
For All Inquiries Within Australia phone: 0407 128 741 Or EMAIL stay@curtiscottage.com.au
Escape the hustle and bustle of city life
Experience the Ultimate Mountain Retreat.
Book your stay today!
Phone: 0407 128 741
Address: 24 Eagle Heights Road,
Tamborine Mountain, Queensland Australia
Email: stay@curtiscottage.com.au